feed me.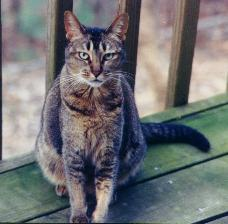 have foodgiver but bad foodgiver. foodgiver not foodgive when foodwant. only foodgive firstlight and foodgive lastlight.

stupid foodgiver.

self wishcould canopen.

sometimes foodgiver oversleep. noisemake, kneadmake, tailinface, but foodgiver stillsleep. once foodgiver flymake. revenge plotstill.

sometimes foodgiver ok. foodgiver lapsit frontof videobox manyhour. good lapsit.

foodgiver purrmake. good purrmake but notknow stoptime. dignity offend. leavemake and sulkmake. dumb foodgiver.

foodgiver bad dooropen. only sometimes dooropen. dooropen then quickly doorshut. few pointsmake. self neighborhood bigjoke.

yet, nice hotsleep. foodgiver says getoff veeseearr. wait foodgiver leave then hotsleep veeseearr daylong.

try giftgive foodgiver. foodgiver gifttake then letloose. gift runaway. foodgiver not let chaseagain. idiot foodgiver.

not understand foodgivers.

foodgivers so mysterious.